robust, safe, zero emmisions, lightweight
•
300 metre Auto Drum 4" to 39" Centred
•
Pan & Tilt with 'auto-home' to simplify operation
•
complete system fully waterproof to IP67
•
full days operation from supplied batteries
•
Wifi Video Streaming to customer
•
reversing camera
•
25kg inc crawler
•
Inclinometer
•
Powerful Sonde
•
Lithium-Ion powered
•
4mm Kevlar cable
•
300m as standard
•
steerable as standard
•
locking wheel bolts
•
cable auto-layering
•
Elevator
NEW
T815/T850 AUTO LIon-Powered Crawler System
Our new Crawler System is battery-powered, robust and all you need for successful surveys

safety first
Our systems are all battery operated so there are no dangerous
voltages or generators required. We use the latest battery
technology to provide a full days work from two crawler batteries
and a single charge of the control unit battery.
why battery power?
On most crawler systems up to 90% of the power is lost in the main
cable. The cable can be increased in size with more copper to
reduce the loss - but then the crawler needs to be bigger and
heavier. In addition the cable voltage is often at lethal levels.
We have produced a crawler that carries its own power source
meaning that the main cable does not conduct any power allowing it
to be much lighter. The composition of our cable is mainly Kevlar
and the three small conductors only carry signals at safe voltages
below 5V.
4" - 39" with one crawler
wifi connectivity
introduction
Ultimate underground technology +44 (0)1730 711 240







a complete automatic crawler system for 4" to 39"


reversing camera as standard with rear lighting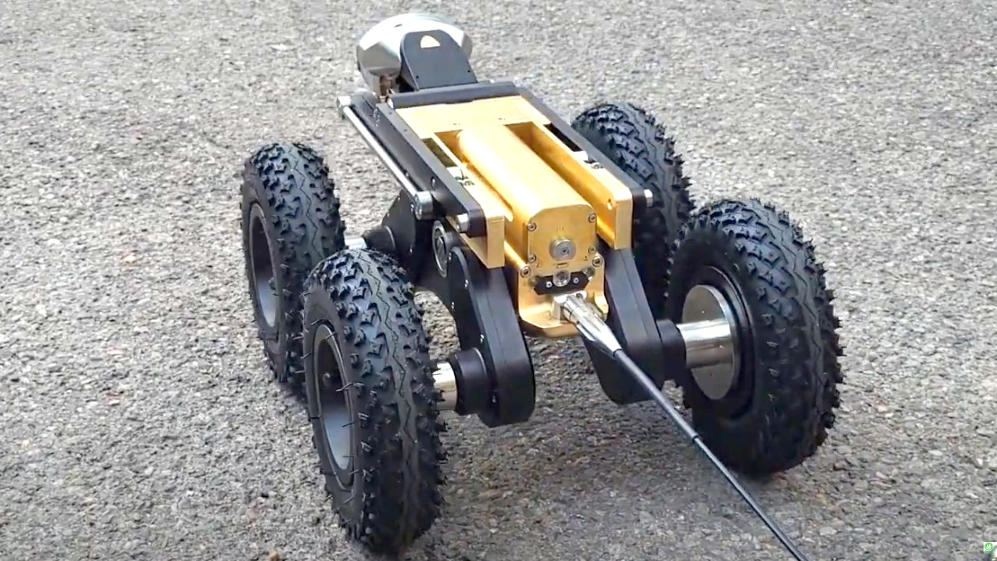 Welcome to Troglotech's Crawler System
- The complete system is Lithium-
Ion battery-operated using the latest technology for long mission times and
this means that the system is lightweight and highly portable - and very
economic to use. As usual with Troglotech products, the system is highly
robust with the crawler being machined from solid brass and stainless
steel.
With a range of quick-release wheel sets (the wheel bolts are locked into
position for security) you can survey the full range of pipe sizes from 4"
(100mm). The crawler is steerable and has a reversing camera and lights so
that a survey can be performed in either direction.
The batteries on the crawler have a long mission time (up to a full days
inpection work) are quick-release and can be charged on-site or via a mains
supply
our crawler system competes with hugely expensive mainline crawler systems for the price of a pushrod system
Troglotech's designers worked on the early, bulky crawler systems at Pearpoint from the 80's to the 00's. These were huge systems that
required generators, cranes, custom-built vans and needed a team to operate. Troglotech decided that this was completely the wrong
method to provide what is essentially a video camera for inspecting pipelines
To this end, Troglotech designed a crawler that carried its own power supply using in custom-designed Lithium-Ion batteries. This removed
the need for the heavy support equipment.
•
No need for generators
•
No cranes needed
•
No heavy main cable - we use a 4mm Kevlar cable - 300 metres weighs less than 10kg
•
No need for multiple crawlers - our crawler is used from 4" to 39"
•
No need for large power supplies, our batteries are quick-release and weigh 2kg
•
No need for heavy cable drums, our is automatic and weighs around 15kg
•
No need for a custom-made van, our system will fit in the trunk of a sedan - ready for 300m survey of 39"